[bc_video video_id="5770760207001″ account_id="5728959025001″ player_id="default"]
Update 10:45 a.m. Fire holding at 15 acres and remains 10% contained.
Update 8:10 a.m. Forward spread stopped. Fire is 10% contained. Resources will be committed throughout the day. No injuries reported. The cause of the fire is under investigation.
Update 7:40 a.m.: Copter cancelled. Motorists should obey road closures while fire equipment works in the area.
Update 7:00 a.m.:  The fire is now 10 acres with a potential.
---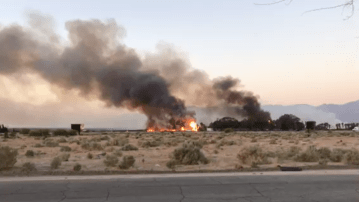 CAL FIRE/Riverside County Firefighters have contained a vegetation fire involving approximately 15 acres of palm trees in the 46600 Block of Tyler Street in Coachella.
The initial call came in at approximately 4:30AM.
According the Riverside County Fire, the fire had the potential to grow to 50 acres but thanks to the aggressive work of firefighters it was limited to 15 total acres.
Over 100 fire personal and one air unit responded to this incident.
Power lines in the area are down, IID is en route to help restore power to the impacted residents.

Riverside County Fire thanks the public for avoiding the area until they were able to put out the fire.