Local Salton Sea activists squared off with state water officials in Sacramento as water transfers from the Colorado River are set to expire.
15 years ago an agreement was made to cut off water transfers going into the Salton sea from the Colorado river. Now the Salton Sea is in more danger than ever.
Did you notice that smell in the air?
"Dead fish. that;s usually the smell you smell, its like a sulfur," said a Salton Sea resident.
When you look at the shores of the Salton Sea, it's no wonder why. But as bad as it is now, the dust, the dwindling water and the stink will only get worse as the Salton Sea shrinks.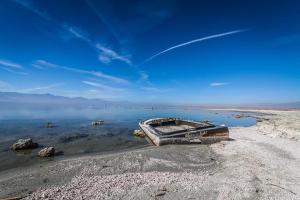 "The sea is going down by 6 inches a year for the last ten years," said Tom Anderson of the Sonny Bono National Wildlife Refuge.
One time wet lands, even once busy boat docks, are all high and dry.
Anderson remembers when the land he was driving over in his pickup truck was underwater, providing habitat to wildlife. Now, work is underway to hopefully return that land to wetlands, eventually pumping water from the Salton Sea to restore the habitat.
"It supported a lot of migratory birds passing through the area. But also since its been dry, its been very missive. There will be clouds of dust billowing of this playa," said Anderson.
But there is another hitch. Just as time has passed by the Salton Sea, so has needed funding. Only one fifth of the necessary funds for restoration have been allocated.
While the once vibrant area is now a shadow of it's former self, supporters continue to fight at the Salton Sea and in Sacramento, trying to keep the Salton Sea from becoming the dead sea. And though the dust, stench and dead fish may linger until a solution is found, locals have learned to live with it. For many it is the Salton Sea way of life.
State officials and Salton Sea advocates spoke today about the best way to save the Salton Sea. It is complicated at best. And although water transfers from the Colorado River are still set to expire by the end of the year, legislators said the will reconvene once more before that happens. Local activists are hoping their pleas did not fall on deaf ears.