[bc_video video_id="5776974160001″ account_id="5728959025001″ player_id="Hkbio1usDM" embed="in-page" padding_top="56%" autoplay="" min_width="0px" max_width="640px" width="100%" height="100%"]
The picture we have become accustomed to when we think about the Salton Sea: a dying body of water, fish die-offs, algae blooms, and abandoned buildings and homes. But, there was a time when the Salton Sea was a much loved resort getaway.
"I'd come with my uncle and my dad and his friends, and we'd go fishing," says local historian Linda Beal. "This is me with my big corvina fish. My dad and I. In it's hay-day, you could not put a boat in the lake without bumping into another boat. It was just beautiful."
In the not so distant past, the Salton Sea was an oasis in the desert. A place where Hollywood celebrities would spend time boating and enjoying the two yacht clubs.
Local historian Lana Hall says, "being able to go down their and get the family boat, knowing that we were going water skiing and picnicking. Sometimes we'd meet out friends, sometimes we didn't but it was OK, we were out there having fun in the sun."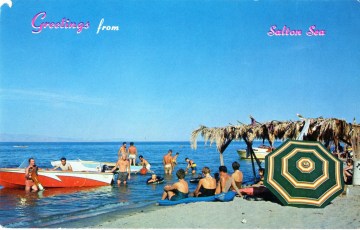 As well as golf on the shores of the largest inland body of salt water, families flocked to the sea for water sports. Hall says, The Los Angeles Examiner had a full page ad which showed my mother on an aqua plane, encouraging people to bring their new motor homes and come see Southern California. And the big attraction was the Salton Sea."
"We need that to survive or we won't be able to stay here."
A series of man made canals and mother nature conspired to create the Salton Sea. At first, in an attempt to irrigate the fertile land of the Imperial Valley, but a few years of heavy rain and snow melted off suddenly and the Colorado River overflowed. The canals burst, and the Inland Sea was created.
"They tried to bring it down over soft sand over Mexico to the Imperial Valley for the farms, but they didn't engineer it right and it was too much water. It just broke through in 1905 and ran for over a year and a half." said Beal.
But as the Valley grew and became more popular in the post war years, families ventured further out of Palm Springs and discovered this oasis in the Desert.
"Of course you have the auto club. You had maps and those kind of things. People are starting to drive all over the place. After World War I, people wanted to see the country and people came down to the sea," says Hall.
Developers moved in and restaurants, docks, and yacht clubs were created.
Imari Kariotis is a local historian and a former member of the recently closed Salton Sea Museum in North Shore.
"Their was a housing boom. People were actually bused in to buy housing tracks."
"They had a little restaurant there, they had piers, fishing, boat races, and the fastest water on the face of the Earth because it was salty," says Hall.
Roads and parking lots were paved, and the Salton Sea was the place to be.
"The shores were just packed with thousands of people. Bathing, water skiing, fishing, just so much to do. says, Beal. When the soldiers came down in the 40s, that was a real hay-day. They enjoyed it, the families enjoyed it. They made a business out of it."
But not for long. As the sea became more salinated, the seemingly endless series of drought, algae blooms, and fish die offs began in earnest. As the lake shrunk, the shore line become unsteady and the massive number of tourists began to go away.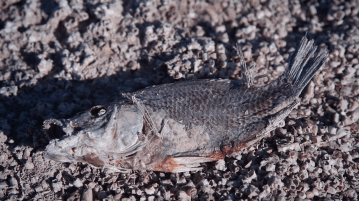 "The sea, as it dried up, got saltier and saltier. Then it killed off the fish, all the big game fish." says Beal.
"When gas prices went up in the 80s, that killed the sea. Nobody wanted to make the trek out here." says Kariotis.
Leaving us with what we have today.
"That body of water is still here. It is a great recreation place and we hope that not only for recreation but for those who chose to live here in the desert. We need that to survive or we won't be able to stay here." says Hall.
The fate of the Salton Sea is unknown at this time, but back in the day, oh what a fabulous place it was.