The Valley Fire started at approximately 1:30 PM on July 6th in the San Bernardino mountain's outside of Palm Springs and the Coachella Valey.
The fire is currently 1,000 acres in size, with zero percent containment.
According to the U.S. Forest Service, the fire is moving north and east, higher into the San Gorgonio Wilderness Area.
Firefighters belie the fire will remain active throughout the night, and will be visible to many in the Inland Empire.
Firefighting resources will continue to work overnight, including structure defense and security.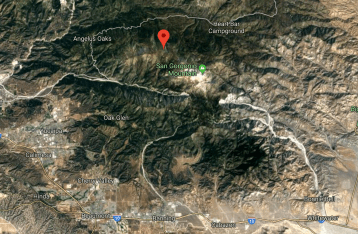 ---
The Latest
Mandatory evacuations: The Forest Falls Community east of Highway 38 has been evacuated. Structure protection and security are in place if the fire moves toward the community.
Evacuation Center: Inland Leaders Charter School-12375 California Street, Yucaipa CA 93299. Pets may be taken to the Devore Animal Shelter. 19777 Shelter Way, San Bernardino
Recreation Closures: Momyer Trail, Vivian Creek Trail, San Bernardino Peak Trail & Big Falls Picnic Area.
Roads Closures: Highway 38 from Bryant Street (Yucaipa) to Lake Williams Drive (South of Big Bear) closed to all access including residents.
Personnel: There are currently over 500 personnel actively fight this fireincluding 21 Engines, 2 Crews, 1 Water-tender, and 2 Fixed-wings. A Type 2 Management Team as been order to take command of the fire.
Fire Works: Fireworks are always prohibited on National Forests!
Drones: Drones pose a serious risk to firefighting and can cause air operations to cease. When drones interfere with firefighting efforts, a wildfire has the potential to grow larger and cause more damage. A FAA Temporary Flight Restriction (TFR) may be in effect and any private aircraft or drone that violates the TFR could face serious criminal charges. Even without a TFR, anyone who hampers firefighting efforts could face charges as well. For more information on drones the public can visit the FAA's website at http://www.KnowBeforeYouFly.org. "If you fly, we can't!"