[bc_video video_id="5810959457001″ account_id="5728959025001″ player_id="Hkbio1usDM" embed="in-page" padding_top="56%" autoplay="" min_width="0px" max_width="640px" width="100%" height="100%"]
Thousands of pounds of food are wasted everyday in the Coachella Valley, especially in hotels and restaurants. This motivated Agua Caliente Casino Resort and Spa to take action and make some changes in the way they manage their waste.
Agua Caliente Casino Resort and Spa facilities director, Jim Stone said they had been looking for alternatives and the one developed by ORCA Digesters seemed to be the best fit.
"We were trying to address how to lessen the impact that we pay on a monthly basis through our waste management companies," he said.
The casino decided to bring in two machines developed by ORCA technology that cost about $40,000 each with the intention of reducing their waste management costs.
"Sending all that waste in the neighborhood cost us about $10,000 a month," Stone said.
That would add up to $120,000 per year, so the company will be able to recoup its investment in a year. Plus, it is environmental-friendly.
"Every amount of food that goes to the landfill digests and produces methane gas, so this is not producing methane gas," Stone said.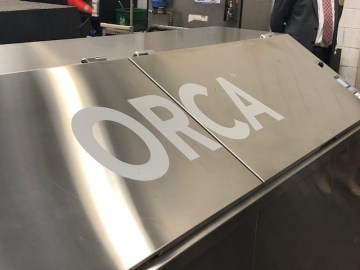 Agua Caliente Casino Resort and Spa installed these machines on June 15th. So far, they have processed around 43 tons of food waste, which is about one ton per day.
Stone explained that within each machine, a "natural Microorganism solution works with water and recycled biochips to quickly break down the waste." The technology churns all the material
Within the stainless steel container, the ORCA's proprietary, natural Microorganism solution works with water and recycled biochips to quickly break down the waste. Through a process called "aerobic digestion," the ORCA technology constantly churns all this material, adding oxygen that accelerates the time it takes to transform the food waste disposal into earth-friendly water.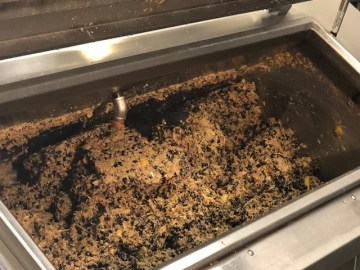 Stone added that the water will then be processed "back to the valley through sewage systems."
According to the Desert Water Agency, about 80% of the water in the Coachella Valley is used outdoors. With the ORCA technology, the water disposed can later be used for irrigation and landscaping.
Although this system won't be transforming food waste to drinking water, experts say we're in good shape for now.
Desert Water Agency Outreach and Conservation Manager Ashley Metzger said the Coachella Valley has water for another 125 years.
"The Coachella Valley is very fortunate to have an aquifer, a groundwater basin right beneath our feet and it's got 39 million acre ft of water," she said.
That does not mean it is not important to save water.
"It is our job to find other water sources, to look at recycling water, to find opportunities for conservation," Metzger said.
At the casino run by the Agua Caliente Band of Cahuilla Indians, the ORCA machines, nicknamed as Willy and Shamu will continue to breakdown food waste one ton at a time.