DESERT HOT SPRINGS – Mountain View Trailer Park has a lawsuit against them "unfit living conditions."
One tenant, Anna Stauch, said her and her family have dealt with inhumane living conditions for years but after a number of complaints and no action, they're fed up.
"I'm not frustrated, I'm angry," she said.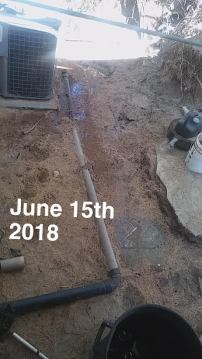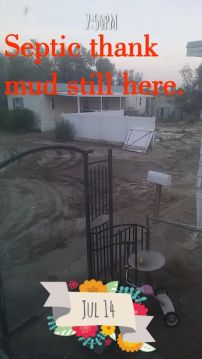 Some of the conditions include sewage running through the streets, leaking pipes, lack of electricity, roach-infested areas and trees recklessly growing into their property.
"I pay my bills, I shouldn't be subjected to this. it's like worse than living in a third world country," Stauch said.
A tenant of almost 11 years, Stauch reached out to management about the many dilemmas. She said their strategy was to "throw some dirt on it."
"They throw that sand, they spray it with Clorox and they call it good," she said. "That's all they ever do."
KMIR knocked on management's door but they did not answer.
Right before the story aired, KMIR received this statement from management that said in part:
"Water Outage: Approximately 10 PM on 7-11-18 the resident in space 50 Anna Bercelli  called  and reported they had no water.  The maintenance man Sam and Manager Pedro Rodriguez due to air in water line, turned off and the turned back on the Shut off valve for spaces 49 through 64 and were able to restore water to those spaces by 12:30 AM 7-12-18.  At 10 AM in the morning the maintenance man discovered that there was a break in the line by the Septic Yard near space 49, caused by a Boulder from the Storm, by 2:30 PM, the water leak in the septic yard was repaired and full water pressure for the Park was restored.  To repair the major water leak, that water was off for 2 1/2 hours. The Mangers went door to door informing the residents that the water would be turned off at Noon due to the major water leak in the septic yard."
Stauch said this is incorrect. She also said Riverside County Environmental Services hasn't helped much either.
"They've come before, but it's like they just put a band-aid."
KMIR also reached out to Riverside County Environmental Services but is still awaiting a response.
Stauch said her children have gotten sick because of the nauseating conditions. Doctors attributed it to the fumes and consumption of the runoff sewage water.
Joyce Manley's daughter is also a tenant in the neighborhood who is enduring the same conditions.
"It [sewage] happens to come out right behind her unit and when it backs up, it runs down her carport," Manley said. "Sometimes they'll clean it up, but several of the managers won't clean it up so she's had to clean it up."
After years of battling management, Anna said she sees no light at the end of the tunnel for their predicament.
"I don't really want to sell my trailer because I feel like I'm going to be cheating someone," Stauch said. "It's like when you sell your broken car to someone knowing that your car is broken. I wouldn't want other people subjected to this."
With a lawsuit filed and several complaints to management, tenants are just hoping for something to change before someone gets seriously sick or injured.
This story has been updated.