Police were on scene of an active standoff situation in Banning on Saturday. Authorities blocked off a portion of W Ramsey Rd. in the city as negotiators attempted to make contact with the suspect according to Banning Police Department. However, those negotiations were never met. The suspect managed to escape the residence where he barricaded himself at.
Authorities are now calling for the public's help to find the suspect identified as James Britton, a 33 year old resident of Banning.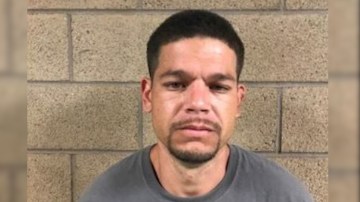 "After approximately an eleven hour standoff, entry was made into the residence," according to a statement sent by the Banning Police Department. 
The incident reportedly began as an assault situation. Around 08:10 am, officers responded to a disturbance at the 2200 block of West Ramsey Street and learned "that a female victim had been assaulted and threats were made against her life."
The suspect fled in a dark colored vehicle and went to the victim's home. Authorities say the two were involved romantically.
When police responded, they say a male suspect "took off" and barricaded himself inside a home on the 3900 block of W Ramsey Rd. An unidentified woman was inside the home at the time, but she was able to escape, according to witnesses.
In that residence, the victim lived with her grandmother. The woman was not home, but her grandmother was there. However, officials confirm that this was not a hostage situation as it was first thought to be. The grandmother was evacuated along with other residents.
Around 5:30 p.m. and 6:00 p.m., police used a tear gas agent to attempt to bring the man out of the home.
Some nearby residents voluntarily evacuated their homes as a precaution and others from Golden Meadows Convalescent Home were also evacuated. At this point, the scene has been cleared out.
John Marks lives across from the victim's home, and he said he could not leave his home for hours.
"It was really scary for us," Marks said. 
"After searching the residence, it was learned Britton had in fact escaped out of the residence," Banning Police Department said. The suspect managed to escape a second time and is now on the loose.
Thanks to a search warrant, authorities found a firearm at the victim's home. "The firearm located, was a reported stolen firearm out of the City on Colton."
Banning Police Department is asking for the public's help to find the suspect. They said he is considered armed and dangerous. "If Britton is seen, the public is requested to call 9-1-1."