DESERT HOT SPRINGS – A "controversial" icebreaker assignment at Desert Hot Springs High School raised some questions of its own. A chemistry teacher assigned a questionnaire entitled "Would You Rather" on the first day of Chemistry class.
Some questions include "would you rather get shot or stabbed" and "would you rather kill a kitten or kill a puppy."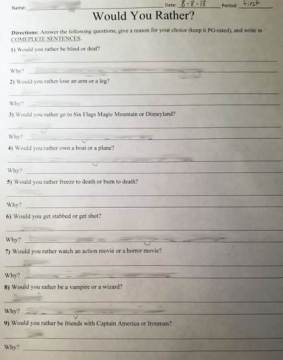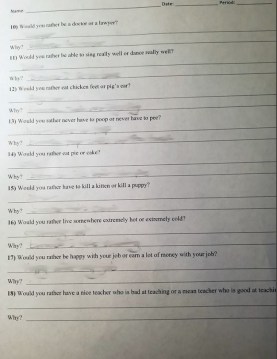 The two pages of questions about death, violence and profanity sparked rage on social media from several parents.
DHSHS Principal Caroline Cota responded to KMIR's inquiries about the assignment:
"I met with the Chemistry teacher. I found out that this activity has been used in past years without any complaints.  The purpose is to serve as an icebreaker in the first days of the school year and to get pairs of students to talk to one another as they discuss certain difficult choices. As the new principal this year, I have reviewed the questions with the teacher and agree that some of the questions are inappropriate. They will not be used in the future. I am sorry that this student had this experience in our school, and I am grateful it was brought to my attention.  We want all of our students to have positive experiences in our classrooms."
The thread of messages in the DHS neighborhood group on Facebook regarding the assignment, have been removed.