Bob Sawaya and Pascuala Garcia were getting ready for Christmas, but instead of a gift, they received the news that Garcia's brand new Volkswagen Tiguan had been stolen from their home in Coachella. Months have gone by and this couple is tired of waiting. They think the delay in this investigation has to do with Garcia's family ties to Mexico.
"On December 23rd around 8 am, She went outside to go to work and realized her car was missing and we were in a little bit of a shock," Sawaya said.
The couple said they had someone go to their home to wash their car but due to other distractions they don't know what happened to the keys.
"I told the investigators that it was either my wife was negligent and forgot the keys in the car or the guy from the car wash stole it," Sawaya said. "It turns out my wife was negligent, and she forgot the keys in the car. It was an accident."
Garcia said she really can not remember where she left the keys because she was getting ready to head to work. The couple filed a car theft report to both the Riverside County Sheriff's Department and the Automobile Club of Southern California, better known as Triple A Insurance.
They have been talking to investigators and lawyers, and they said they had originally been told they were going to get some sort of compensation to buy a new car. The couple went ahead and bought it after 30 days.
"We're making double payments on her new car, and we don't want to ruin her credit, so we are making payments on the Volkswagen."
Garcia and Sawaya claim they think a delay in their case has to do with Garcia's frequent trips to Mexico.
"The translator asked me if I drove my car to Mexicali and I said yes," Garcia said. "They asked me why and I said that I travel to Mexico to visit my mom who lives there."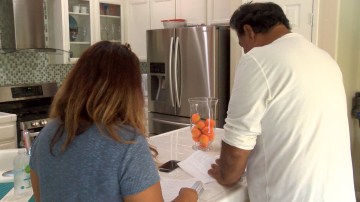 We reached out to Triple A and Jeffrey Spring, the corporate communications manager at Triple A said in a statement that they were surprised by these claims because they are " waiting for the insured member to return documents provided to them in June."
The couple plans to return those documents, but they think that this case has been going on for too long. Triple A said they also sent several reminder letters to the couple.
"Once we receive their response, the claim can move forward," Spring said.
As for the couple, they hope to get their compensation soon and they plan to switch to a different insurance company.
"We hope to get all that money back plus the little equity on the car and an apology from Triple A," Sawaya said.
Regarding the couple's claim about the delay due to their relation to Mexico, Spring said it was just part of their claims research process.
"We need to ask details about the travel to Mexico to determine if there was a chance the vehicle was stolen in Mexico," Spring said. "If it was stolen in Mexico, then the loss would be covered under Mexico insurance."  
Sawaya plans to picket outside of the insurance's branch in La Quinta next Tuesday August 21 at 10 a.m.