[bc_video video_id="5824148876001″ account_id="5728959025001″ player_id="Hkbio1usDM" embed="in-page" padding_top="56%" autoplay="" min_width="0px" max_width="640px" width="100%" height="100%"]
Decades of instances of sexual abuse have tainted the Catholic Church, which is why Bishop Gerald Barnes urged parishes to address the issue. For many church goers, starting the conversation is a big step but there is still work to do. These actions come after a Pennsylvania report found that around 300 priests molested more 1000 minors.
Jennifer Wortham recently wrote a book "A Letter to the Pope" where she talks about the wounds her family endured after her brothers were molested by their parish priest.
"I think we all have to pray now and give hope to all the victims that are experiencing what they are experiencing, and all the wounds that have reopened because of the cover-ups and tragedies that have happened," Wortham said.
For years, she distanced herself from Catholicism. Thanks to her letter to Pope Francis and a conversation she had with him she has found a way to cope with the pain. 
Pope Francis faced strong criticism after not acknowledging the scandal during his Sunday Angelus in Rome. The Vatican did release a statement two days after the Pennsylvania report. This still did not seem to be enough. Today, Pope Francis shared a letter where he acknowledged and condemned "with sorrow and shame, the atrocities perpetrated by consecrated persons, clerics, and all those entrusted with the mission of watching over and caring for those most vulnerable."
[bc_video video_id="5824632035001″ account_id="5728959025001″ player_id="Hkbio1usDM" embed="in-page" padding_top="56%" autoplay="" min_width="0px" max_width="640px" width="100%" height="100%"]
At Sacred Heart Catholic Church, Monsignor Lincoln read the letter sent by the bishop and added some of his own insight during several Sunday masses.
"Bishop Barnes, I know shares the disgust of all those affected, especially of the victims and their families and of all Catholics," Lincoln said as he read the bishop's letter.
Monsignor Lincoln said the church has worked to protect children from these crimes. Some of those efforts include background checks on volunteers and harassment and bullying online training for all workers. Monsignor Lincoln added that priests and minors can only be alone if they are in confession or during a one on one meeting. If it is the latter then, it will be at an office that has a glass door. 
"I think there is broad Catholic agreement that this is an institutional failure. This is an institutional failure and it includes the Vatican," he said. "People were shocked, were sickened, were saddened. This is not the church that I professed faith in 27 years ago when I was ordained. It's not the church that Christ instituted."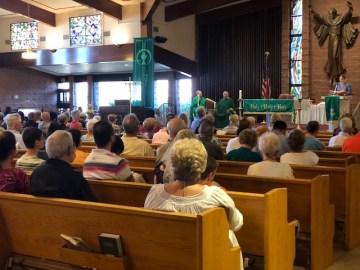 Pat Newton volunteers as a greeter church and she said that she has been Catholic all her life.
"It is what it is, we're not perfect. If we can be forgiven and keep on going in the path of God then we're lucky," she said.
Another parishioner, Michael Stearns is a victim of sexual abuse, but he said this was not something that happened at church. Instead he has found his faith as a medium to cope with the trauma.
"I think that a lot of sick men still exist and they are still out there as predators," Stearns said. "It's not a Catholic problem. It's a society problem."
He encourages victims like himself to avoid isolation.
"Continue in your faith don't just block the doors, and lock the door on your faith," he said. "Your faith is what will heal you."
Wortham said that the letter form the bishop was a good start but that the church still has work to do to protect minors.
"First I think they need to come clean about everything that has happened. I'm advocating for a day of healing that becomes an official day at the church, an international mass…
More than economic compensation from the church, she wants the institution to acknowledge the victims.
"Even money never really takes place to repair one's soul," she said.
Monsignor Lincoln said Sacred Heart Catholic Church offers many resources for all victims of sexual abuse not just instances involving priests. He said the church offers counseling sessions and retreats.
"Let's pray that Jesus Christ our divine physician will heal those who have been harmed, and that Mary the mother of our church intercedes for us, like me, and trust into the care and that all of us might be called to a higher calling," he said.
Pope Francis hopes that prayer and fasting will help combat, "all forms of the abuse of power, sexual abuse and the abuse of conscience."
The Vatican has not announced a plan of action to fight abuse and harassment in the church.