Maximus Mighty Dog Mueller II, better known by his constituents in Idyllwild as Mayor Max,  is the kind of guy everyone wants to be friends with. He might not have much experience in politics, but he can sure pull off a checkered tie and do all sorts of tricks for a treat. The Mayor of Idyllwild is a friendly, furry golden retriever.
Mayor Max has been in office for five years, but the first mayor was his uncle also named Max and also a golden retriever.
Back in 2012, the town of Idyllwild held mayor elections for the first time. In order to qualify, the candidate had to be a local resident, but not a human, it had to be a pet.
Mayor Max's chief of staff, Phyllis Mueller, ran for office with the help of the first Mayor Max.
"In a voted election, 14 dogs and 2 cats ran, and we decided  to have an election to raise money for the animal rescue, so you paid a dollar a vote and you were encouraged to vote a lot," Mueller said.
In a landslide victory, the first Mayor Max was elected. However, he passed away in 2013, so the town voted for Maximus Mighty Dog Mueller II, who was only a puppy at the time.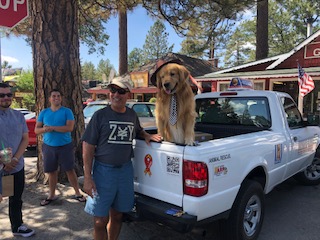 "His role is to make the world a better place by conveying unconditional love and doing as many good deeds for others," she said when describing Mayor Max's role. Mayor Max agreed with a bark.
Of course that running a town can be a handful for a dog, so that is when Mueller's role comes handy.
"My role as the chief of staff is to help run the vision of the mayor's office for Idyllwild, so we actually run an actual mayor's office," she said.
The two make public appearances every day, and they usually bring along Mayor Max's deputies, who are also golden retrievers. They attend fundraisers, charity events and community gatherings. This has become one Idyllwild's biggest attractions.
Andrea Valadez and her son Octavio Osuna come travel to Idyllwild a couple times a year. The two expressed how much they love the mayor.
"Max is awesome," Valadez said. "He is super friendly and he lets my son give him treats."
Mayor Max will hold his ceremonial role for his lifetime. For now, Mueller will continue giving away the mayor's business cards and small stuffed animals that look just like the mayor.
"The mayor makes people happy," Mueller said.