El Santuario de la Virgen de Guadalupe, a Catholic church in Mecca is hosting its inaugural festival to celebrate the independence of Mexico and several Latin American countries.
Father Francisco Valdovinos, the pastor of El Santuario de la Virgen de Guadalupe, said it is important to bring unity among Latinos in the Coachella Valley especially during this important national holiday.
"To get together as one community and to celebrate our unity," Father Valdovines said. "To have our people together with music and food."
Although there is a large Mexican population in the East Valley, this church is welcoming all Central and South Americans in the Coachella Valley. The plan is to commemorate the independence day of Costa Rica, El Salvador, Guatemala, Honduras, and Nicaragua, which is on September 15. Mexico's independence day is on September 16,  and Chile's is on September 18.
Alfonso Gonzalez is a parishioner and is one of the organizers of the festival.
"We are trying to unite and fusion our cultures," Gonzalez said. "Not just us Mexicans but rather celebrate with the Salvadoran, the Guatemalan, the Central Americans so they can feel that this is their town too."
Gonzalez said another goal of the festival is to help fund raise money to build classrooms for catechism classes.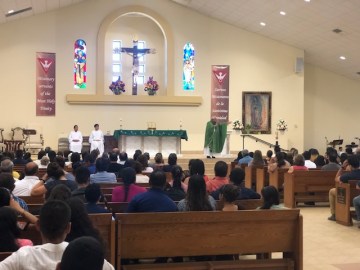 Lilia Sanchez was outside the church selling some traditional garments, and she said she is excited to show off her own dresses this coming weekend.
"I'm proud of wearing my traditional dresses," Sanchez said. "It's important to remember where we come from. We are rich in tradition and culture."
Organizers said there will be all sorts of activities including traditional Mexican folk dances, mariachi performances, and dances with horses.College of the desert's mexican folk ballet is one of the dance troupes scheduled to perform. Of course, there will be plenty of food to choose from!
The event will take place on Saturday September 15 from 11 am to 10 pm, and on Sunday from 8 am to 2 pm. Mass times will not change during this coming weekend.
Father Valdovinos said this festival is a way of passing along the rich history and culture that characterizes Latin and Central America.