World Suicide Prevention Day is a day organized by the World Health Organization to raise awareness and start a conversation about the topic. A Palm Desert father speaks up to share his story.
Dave Muth lost his daughter to suicide almost three years ago come October but he explains how the loss sparked his passion to help those struggling in the valley and across America.
"When Madeline died, she wrote a note, and the last line of that note said, 'Go out to be the person to make a difference. Save someone.'"
Ever since her death, Muth wears the bracelet which reads, 'Make a difference, save someone,' in remembrance of his daughter.
"She was open about her struggles and people felt safe about sharing their stories with her," he said.
Madeline was the first Celebration of Life speaker at the awareness walk in Palm Desert.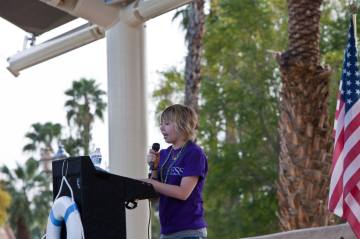 A few weeks later, the darkness crept back in. She took her life after suffering from depression since 11-years-old.
"There was a day that she lost hope, she was two weeks shy of her 20th birthday."
Coming up on three years since her death, Muth has become heavily involved in suicide awareness and prevention.
"It started out as coordinating the walk and it has evolved," he said. "I am now a board member with the American Foundation for Suicide Prevention and I do a lot of advocacy work."
Muth travels to Sacramento and Washington D.C. to advocate for the passage of bills that will help prevent suicide. The most recent is HR 2345. The bill would eventually make the National Suicide Prevention Lifeline three numbers, similar to 9-1-1.
"People will have that readily available and know what it is so that in a mental health crisis or if they are looking for resources, it's a simple number to call."
One step of many, aimed at making his angel proud.
"Madeline would be proud of me. I'm sure she's smiling down at me and what I've done and continue to do," he said. "I would've never ever considered doing such a thing but in her honor, I'm doing this to help others who may be feeling what she felt."
As Madeline would say: Make a difference today. Save someone.
If you or anyone you know is struggling with thoughts of suicide, call the National Suicide Prevention Lifeline at 1-800-273-TALK.