Conchita Pozar carefully presses a threaded needle against a bright yellow piece of fabric. Every time the needle goes in and out, a family tradition is preserved through the craft of embroidering.
"My great grandmother taught my grandmother, my grandmother taught my mother, my mother taught me, and I plan to teach my daughters too and anyone who wants to learn," Pozar said.
The 28-year-old is from Ocumicho, a village in the southern state of Michoacan in Mexico. She is part of a Mexican indigenous community known as Purepechas. Although Pozar is a resident in North Shore, she continues speaking her native language and is in a mission of preserving the art of traditional embroidery.
"It fills be with pride to teach other people about our art and what identifies our community," she said.
Pozar learned the craft when she was 17 years old. She said patience is the secret to make these special embroideries.
"Because both the needle and the apprentice have to learn together to make sure the embroidery is done right," Pozar said.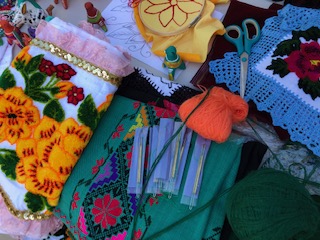 Colorful, vivid flowers come to life as they are stitched with caution on napkins, blouses, pillow covers and tablecloths. Pozar's grandmother mails her the threads from her village, her mother sketches the designs and Pozar embroiders.
"I'm always thinking about doing different types of embroideries such as animals, lakes, mountains," Pozar said.
Pozar has not visited her hometown in 13 years, which is why she tries even harder to keep her culture alive.
"Embroidering and speaking my native language here makes me feel like I'm in my village, and I know that I will never forget it," she said. "With the help of God I will be there again."
She has taught workshops in North Shore. Art has become a medium for her to empower her indigenous community and other women.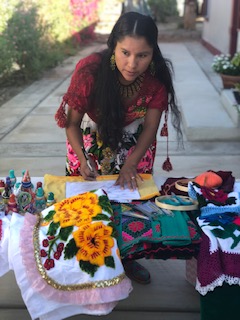 "I want to teach others so my culture doesn't die," she said. "I don't want the embroideries to end, I want others to help keep my heritage alive."  
Pozar is making sure both of her daughters are trilingual. Her 9-year-old is already learning English in school, so she is teaching them Purepecha, her native Mexican language and Spanish at home.