Yolanda Baltazar questions her students about the different elements that make up an altar for Dia de los Muertos or Day of the Dead. This is a way for this teacher to pass along her Mexican culture. Baltazar is a Spanish teacher at Coachella Valley High School a job she shares with both of her daughters, Zorayda and Morelia.
"I'm happy, I'm proud of my daughters, and I love working with them because we are a strong team," Yolanda said.
The family moved from Michoacan, Mexico about 30 years ago, and she wanted to make sure that her daughters felt proud of their roots.
"My goal was not for my daughters to learn English but rather, for them to continue to embrace their culture," Yolanda said. "I knew that would help them build confidence."
Mother and daughters never imagined they would end up working at the same school and teaching the same subject.
"Never in my life did I think that I was going to work with my mom or my sister here at the school that I graduated from," Zorayda said. "It's an honor, it is stressful sometimes, but I'm proud of everything we do together."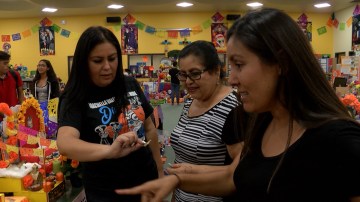 Students taking Spanish are required to do a series of projects related to Dia de los Muertos or Day of the Dead. They are required to make an altar and a painting that will be on display at the school's library. Those who do not feel comfortable with the projects due to religious reasons make different art projects, so the tradition is not forced upon anyone.
"Students at Coachella Valley High School, a lot of our students are also first, second generation, so sometimes they haven't gone to Mexico, and so this is our way of explaining to them how things are done in Mexico or how we celebrate our family, how we celebrate community and how we celebrate culture," Morelia said.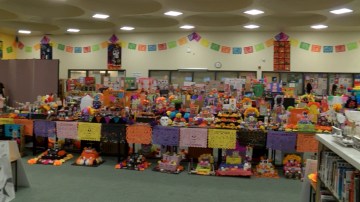 Dia de los Muertos or Day of the Dead is a day to remember those who are no longer with us. It is believed that their spirits will come back to Earth on November 2nd with the help of a special altar decorated with candles, personal photos, crosses, and flowers."Just make sure you remember your muertitos, that you remember your family members that are not here, and if you're going to remember them they will always be here," Zorayda said.