Thanksgiving is all about food, family and of course, football! Middle schoolers and high schoolers threw on their cleats for the annual Turkey Bowl at Southwest Church on Wednesday.
With sixteen teams showing up, the 23-year-old tradition is something many look forward to.
"For me, just getting to see so many students from different backgrounds and different places come together and play one of the greatest sports of all time," Brock Johnson, the high school and middle school ministry leader of Southwest Church, said. "It's great."
Several football players from high school school teams around the valley got to duel it out one last time now that the season is over.
"All I gotta say is we about to run up the score on your whole team," one local high school player said to another.
This year, the Turkey Bowl coordinators added a few surprises. Chris Johnson, a former safety for the Minnesota Vikings and now, a Coachella Valley resident, spoke to the crowd of kids.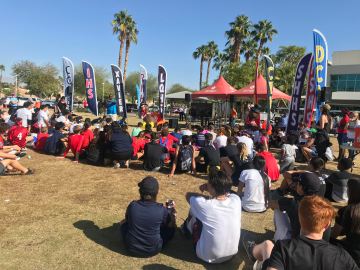 "When I was younger, I came from a really tough neighborhood," he said in his speech. "Coaches and adults, when my dad wasn't around, poured into me and it gave me hope, so any chance I get an opportunity to talk with kids, I do it."
Plus, Johnson said he was impressed with the talent.
"Tons of talent, I'm going to stick around and watch some of it."
Players like Robert Taylor, a senior wide receiver for the Desert Hot Springs high school football team had high hopes of winning the whole thing.
"I'm confident that we're gonna win," Taylor said. "[The trophy cup] looks beautiful."
The winning high school team, made mostly of Palm Desert students, received matching rings while the winning middle school team walked away with the Turkey Bowl cup.