The future zoologists, broadcasters and chefs got together at Palm Desert High School to talk about professional goals during the second annual "Career Girls" event.  
Career Girls is a non-profit that hosts events around the country to empower young women to pursue their dream job, and this time it was local middle and high school girls who joined the conversation.
Destiny Rivas is a junior at Palm Desert High School and she said the event expanded her career options, "It opens your eyes so much."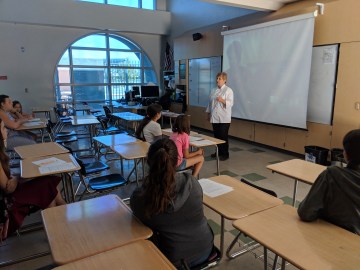 The presenters of the event are women who are excelling in their career fields, including familiar faces like KMIR reporters Luzdelia Caballero and Lauren Day, they spoke about entering their careers in news.
Lei Lani Balderas is a sophomore at Palm Desert High School and she was able to hear from professionals who are working in her dream career field. "My dream is to be a film producer," Balderas said. "And I think it is really important for woman to be film producers because it's just starting to emerge now."
The event is all about opening the door to the many career opportunities that are out there, and waiting for them. Emma Chapa is a student at Colonel Mitchell Paige Middle School in La Quinta, and she was exposed to a new career field with the help of staff from the Desert Living.
Chapa said, "At first I wanted to be a teacher, but now I want to be kind of like a veterinarian and help animals."
The career day was also a reminder for students that they do not have to wait until college to begin getting experience in their future job. The spokesperson for Desert Sands Unified School District, Mary Perry said they can begin learning in high school.
Perry shared some of the programs available to local students, "Culinary at La Quinta, Agriculture in Indio, Automotive at Amistad, there are options, so we want the girls to know their options as they prepare to enter high school."
And hopefully college is next for them, and maybe one day give back to their community.
Rivas said, "I see myself after graduating working at Eisenhower, I love Eisenhower more than anything."
Perry said they will host the event once again next year, and they hope to grow the number of students and she is encouraging local professional women to join the event.