President Donald Trump declared "mission accomplished" in Friday night's strike on three Syria targets and argued that it "could not have had a better result."
"A perfectly executed strike last night," Trump tweeted Saturday. "Thank you to France and the United Kingdom for their wisdom and the power of their fine Military. Could not have had a better result. Mission Accomplished!"
The President added that he's "so proud of our great Military which will soon be, after the spending of billions of fully approved dollars, the finest that our Country has ever had. There won't be anything, or anyone, even close!"
Trump announced from the White House on Friday night that the US, in coordination with France and the United Kingdom, had launched strikes on Syria following a week of threats of retaliation for an alleged chemical weapons attack on civilians by the regime of Syrian President Bashar al-Assad.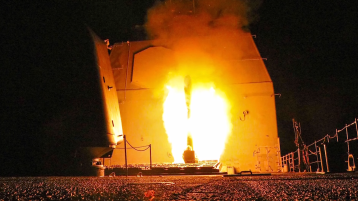 Trump's remarks on Twitter are reminiscent of President George W. Bush's 2003 speech announcing an end to major combat operations in Iraq on the on the aircraft carrier USS Abraham Lincoln, with a big sign that read, "Mission Accomplished" in the backdrop. Those words later took on an irony as the war dragged on, and at the end if his presidency, Bush called the use of the phrase "a mistake."
The strikes on Syria were launched at 9 p.m. ET Friday, the early hours of Saturday morning for Europe and the Middle East.
The Pentagon on Saturday echoed the President's assessment.
"Last night's operations were very successful"
"Last night's operations were very successful," Pentagon spokesperson Dana White said at a briefing Saturday morning. "We met our objectives. We hit the sites, the heart of the chemical weapons program. So it was mission accomplished."
The Pentagon also said that it was not aware of any civilian causalities at the time.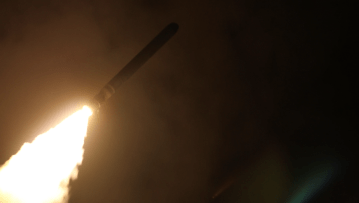 The strikes "successfully hit every target" and that the allies "took every measure and caution" to only hit the intended targets, White said Saturday morning.
Syria state TV, however, claimed that three civilians were wounded in Homs after "several" missiles were intercepted by Syrian air-defense systems.
Lt. Gen. Kenneth McKenzie, director of the Joint Staff, said that none of the aircraft or missiles involved in this operation were successfully engaged by Syrian air defenses, and there is no indication that Russia air defense systems were employed.
Trump had said Friday that the US is "prepared to sustain this response until the Syrian regime stops its use of prohibited chemical agents."
But US Defense Secretary James Mattis told reporters Friday that the missiles were a "one-time shot" for now, but that the strike sent a "strong message" to "deter" Assad from carrying out another chemical attack.
"Clearly the Assad regime did not get the message last year. This time our allies and we have struck harder," Mattis said.
The United Nations Security Council will hold an emergency meeting on Syria at 11 a.m. ET on Saturday.