Mr. Wilcox is an ecologist with over 20 years of experience in the environmental consulting industry. He has worked as a division and program manager as well as section leader for several large environmental and engineering consulting firms.
He has experience with management of large consulting teams developing CEQA/NEPA documentation, Endangered Species Act compliance, Clean Water Act and other environmental regulatory compliance. He is currently serving as the manager of IID's environmental compliance program for the Quantification Settlement Agreement water transfer (QSA).
---
What is the "Salton Sea Authority"
Created in 1993 the Salton Sea Authority is a Joint Powers Authority (JPA) responsible for working in consultation and cooperation with the State of California to oversee the comprehensive restoration of the Salton Sea.
Although the Salton Sea Authority and its partner agencies recognize the state and federal roles and responsibilities at the Salton Sea, the Salton Sea Authority is directed by board-adopted policy to assert a leadership role to ensure local priorities are recognized.
Accordingly, the Authority has successfully fought to assert a local leadership role in the revitalization efforts for the Sea. We are pleased to acknowledge that progress is being achieved on this front with improved cooperation between the Authority and its state and federal partners.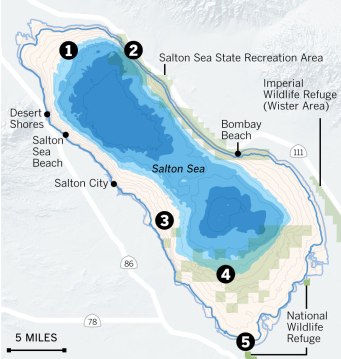 About the Salton Sea Management Plan
Governor Edmund G. Brown Jr.'s Salton Sea Task Force, created in May 2015, has directed agencies to develop a comprehensive management plan for the Sea that will:
Meet a short-term goal of 9,000 acres to 12,000 acres of habitat and dust suppression projects, and
set a medium-term plan to construct 18,000 acres to 25,000 acres of habitat and dust suppression projects.
These goals were memorialized in in 2016 through a 10 year Memorandum of Understanding between the United States Department of Interior and the Natural Resources agency and will be implemented through the Salton Sea Management Program pursuant to the Phase I 10-year plan released in March 2017. The Natural Resources Agency is committed to a transparent process with clearly defined goals and measurable objectives aligned with available fiscal and hydrological resources. Progress made by the program will be overseen by the State Water Resources Control Board and California Air Resources Board.
Read: Financial Feasibility Action Plan