President Trump signed an executive order today reversing a number of EPA policies and now residents near the Salton Sea worry that his move could impede efforts to restore the Salton Sea.
Over the years the lake began to shrink from a lack of farm runoff water. If it dries up, fine particles and other chemicals could cause an ecological disaster.
"We're going to be dealing with toxic dust probably for quite a while before they ever get up to us unless something drastic happens," said Desert Shores resident Loren Ness.
In September 2016 the federal government stepped up its commitment to the Salton Sea by exploring the possibility of buying geo-thermal energy from the Imperial Valley. A move that could help fund the restoration of California's largest lake. But President Trump's executive order has signaled change.
"Somebody has to come up with bunches of money before you can do anything with the Salton Sea."
"They're starting already too late. They can't get it done and they know it. So now they're doing peace meal patch work stuff," Ness said.
Salton Sea restoration experts are cautious to jump to any conclusions. They say its too early to tell whether the changes will be good or bad for the restoration of the Salton Sea. Veteran residents say it will take a lot to save the Salton Sea.
"Somebody has to come up with bunches of money before you can do anything with the Salton Sea," said Robert Anderson, a 54 year resident of the Salton Sea.
In the 1960's, The Salton Sea was a bustling recreational destination.
"We have a street out here by the Sea that every week you had bumper to bumper campers coming out, the fishing was terrific, there was nothing better than the Corvina that you used to be able to catch in the Salton Sea," said Anderson.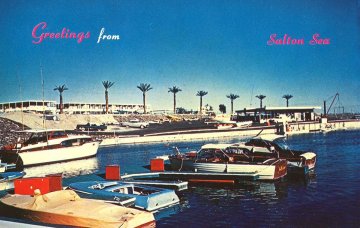 But after the Salton Sea began to shrink in size and increase in salinity, things changed.
"It's probably been years since I've seen a boat out on the water," Anderson said.