The Palm Springs Unified School District is preparing students in case danger ever steps foot into one of their campuses.
Adam Coughran is the President of Safe Kids Inc. that contracts with PSUSD to teach life saving skills through the H.E.R.O. Program. The training is taught through storytelling they said is appropriate for a young mind.
"The entire program has no image of any weapons, so no guns or bullets, knifes or explosions," Coughran said. "That story is of a hero school where all these other little kids like them and about the same age, learn how to use their own special super power.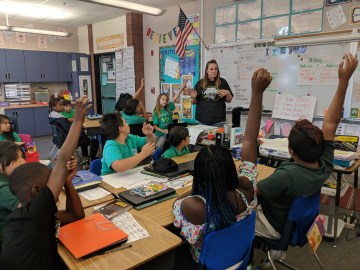 The super-powers gives students the ability to barricade a classroom door and disappear within seconds.
The skills are passed down from teachers who learned the H.E.R.O acronym, Hide, Escape, Run, Overcome through a professional training.
Cash Rist is a fourth grade student at Cahuilla Elementary School in Palm Springs, he said the training is useful, "If there's something happening with an intruder, it's going to help us know what to do."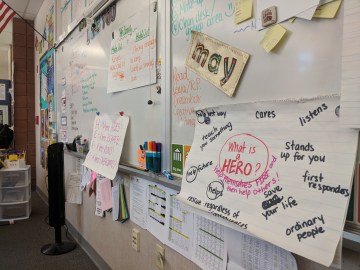 Meg Jones is a third-grade teacher at Cathedral City Elementary School and she never expected to add active-shooter training into her curriculum. Jones said, "It was almost a shock to think, wait I'm going to teach these kids how to stay away from danger but like I said, I think it's worked out really well." 
They said the program has worked because even the youngest of their students are aware of gun violence.
Rist said, "It's pretty sad that we have to do this actually to protect us from people that just want to go to schools and hurt little kids."
But they said the active shooter training will not end anytime soon, the hope is for students to carry-on with the tools.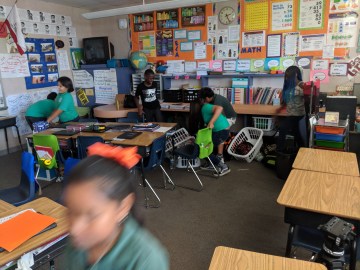 "I don't want them to think that I am going to save them or secure them on my own," Jones said. "I'm going to make sure that they get going but then I am out of it I have to be."
The PSUSD students in kindergarten to eight grade have all gone through the H.E.R.O program training, but next year they will begin the pilot with local high school students.