The chief deputy of the Mexican consulate in San Bernardino has been accused of giving more than 25,000 dollars to Caminemos Juntos USA-Mex, a non-profit whose reputation is questionable.
This scandal comes after Proceso, a national magazine in Mexico, published a story that accused Salomon Rosas, the chief deputy at the Mexican consulate in San Bernardino, of embezzling Mexican federal funds intended to teach workshops to undocumented immigrants.
In 2017, the Mexican government allocated $400,000 of federal funds to the consulate in San Bernardino, which was used to pay 14 local nonprofits and organizations.
Rosas said he thinks the accusations are "defamatory and offensive."
"We can probably improve many things but we are not thieves," Rosas said. "We haven't stolen any money. We're here to work and help our community."
A former employee at the consulate, who asked to remain anonymous for safety reasons, said Caminemos Juntos USA-Mex is not a reputable organization like the other 13 that also recieved the funds.
"They say they have 10 years of experience serving the community in the Inland Empire, specifically San Bernardino and Riverside counties."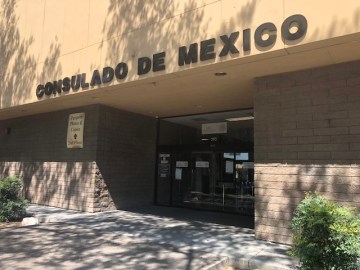 KMIR News obtained a series of documents from an undisclosed source. One of them is a letter sent to Fernando Guzman, the director of Caminemos Juntos USA-Mex.
Guzman received an invitation to participate in the federally funded program on May 10, 2017. The organization gave the consulate a response on May 22, 2017 expressing their interest in participating. In that letter, Caminemos Juntos USA-Mex claims it is a non-profit that was properly registered. However,.according to ca-registry.com the organization was not registered until May 24, 2017- two days later.
Another document reveals that the non-profit did not receive an IRS ID number until June 2, 2017. This contradicts an earlier letter stating that Caminemos Juntos USA-Mex has been around for more than ten years.
The organization was still hired between August and December 2017 to teach two types of workshops: a know your rights session and another about planning ahead in case of deportation.
According to Rosas, the organization received $25.875 for the services that were supposedly provided during that period.
Our source said it was suspicious for the non-profit to have no presence on social media and a basic website.
"What is interesting is that the organization is at a private home. It's a residential area," the former employee said.
According to Rosas, the providers had the freedom of choosing where they wanted the workshops to take place.
Some were at churches, others at reunions or classrooms," Rosas said.
The consul said that in the contracts, providers were asked to keep records of the workshops.
"Of course, we supervised them and we even had some of our people show up at the workshops," Rosas added.
In the middle of the turmoil, Rosas denies all corruption -related accusations. The Mexican government is looking into this matter.
"In this case, I have to defend my reputation, my consulate and clearly my personnel, the work of my colleagues whose work after this article is undervalued," Rosas said.
For now, Rosas said he sent a letter to the Mexican magazine Proceso further explaining how the funds were used. He does not plan to take legal action.