Karen Stone only had an afternoon to get everything ready to evacuate from the Pinyon Pines area including her two horses. She is one of the thousands of evacuees who have had to leave their homes because of the Cranston fire and the Ribbon fire.
"They're safe," Stone said in regards of her horses. "At least they're not going to get burnt [and won't] be in the smoke as well. There was a lot smoke up in the mountains."
Stone said one of the reasons she and her family decided to evacuate was because they did not have water nor electricity since the Cranstone fire started.
Just last year, nearly 50 horses died during the Creek fire in San Diego. For horse owners in the mountains, both the Cranston and Ribbon fires set a red flag.
"It was at the point where we saw the fire in the ridges was when I felt the need of taking the horses to safety." Stone said.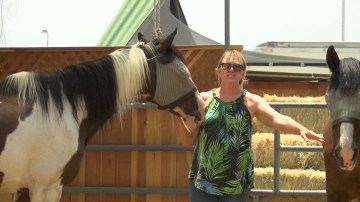 The Coachella Valley Horse Rescue helped Stone transport her livestock, which included some of her chickens.
"They're [chickens] in shock a little bit because it's a lot cooler up in the mountains, 15 to 20 degrees cooler," Stone said.
Her other pets are at a relative's home.
Annette Garcia, the director of the Coachella Valley Horse Rescue said the situation "is devastating up there."
"We are expecting some more animals to come in and we only have so much space that has shade," she said.
The main challenge for the rescue is the heat. During the summer, they have to put giant ice cubes in each horse's water to make sure they don't burn themselves.
"We have to put ice in the waters three times a day," Garcia said.
In order to accommodate both horses and small livestock, the rescue has had to make some changes. If they were to receive small animals they would have to move their female miniature horses into one stall.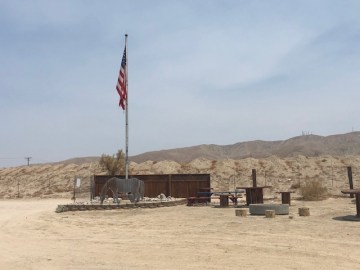 As for the horses, they have a couple stalls where they could fit up to six horses.
"We want to help as many people as we can, but again, we have limited capacity because of the heat," Garcia said.
The rescue said they are a resource but, they highly appreciate all the help and support they can get.
"We need a freezer," Garcia said. "Also, we need volunteers that can come out in the heat."
Stone said she is staying at her son's home while the fires are cleared out.
"It's interesting. At times like this, you determine your priorities, and your priorities do shift," Stone said. "It's a good time to take inventory."
For more information on how to help the Coachella Valley Horse Rescue, click here.
If you are an evacuee and need a place to drop off your livestock, you can contact Shorterhorse Ranch at (7160) 343-0140 and (760) 333-1209.
The Department of Animal Services in San Jacinto is another site available for residents, there number is (951) 358-7387.