For Leslie Chavez and her family, moving to the Cesar Chavez Villas in the city of Coachella was an opportunity to build a home of her own.
"This is our first time living alone, we lived with my mom for a pretty long time, and it's really comfortable, I like it," she said.
Along with another 136 families, Chavez is living at a complex built with the intention of providing affordable housing for farmworkers in the Coachella Valley.
Chavez is a stay-home mom and her husband is a farmworker. They just moved in to their three-bedroom apartment about a month ago.
"I mean it doesn't matter if you work in the fields or not," she said. "It's a decent job."
Chelsea Investment Corporation was the developer in charge of building these apartments. The first phase was completed in 2014, and the second phase concluded this year. Most of the funding came from grants from the federal government and a loan from the City of Coachella.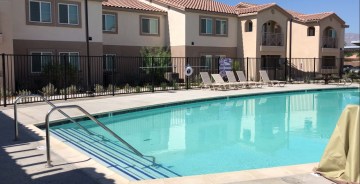 Luis Lopez is the building manager at Cesar Chavez Villas, and he said that many times, the conditions in which farmworkers live are not good.
"They are coming from trailer homes in Thermal or from ranches that are in bad conditions. Some of them don't have AC," he said. "Some of them, I heard didn't even have electricity, so for them moving into these apartments is a whole change for their lives."
The cost of rent is based on the renter's income. Lopez said rates vary between $70 to $700. The rule of thumb is that the cost will be 30% of the families income.
Chavez said she pays less than $250 dollars a month plus electricity. With that she gets to enjoy a residence that is gated and has amenities such as a pool, computer lab and several playground areas. Plus, the complex offers afterschool and summer programs for kids, and they teach English as a second language to adults.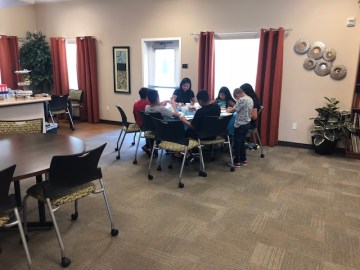 In order to live here, at least one member of the household has to be a farmworker and they have to be either a U.S. citizen or a U.S. resident.
For those who are already retired, "they need to be able to prove that 5 years before retirement they were farm labor employees," Lopez said.
Chavez is excited about having her own apartment and that her two kids have their own rooms.
"It was really nice of the government to do these types of apartments because people really do need them," she said.
The Cesar Chavez Villas has become a hotspot to live. Right now, there are about 500 people on the waitlist. Renters do have to renew their contract every year, and they have to prove that they are still working in the fields.