On July 30, at about 12:38 PM, officers from the La Quinta Police Department responded to the 54700 block of Avenida Vallejo, La Quinta, reference a family disturbance.  Officers arrived and contacted Stacy Rowan, 55 years of La Quinta.
During the investigation officers discovered several firearms illegally possessed by Rowan.  Officers also discovered materials consistent with explosives.  Based on the materials located, the Hazardous Device Team responded and assumed the investigation into the materials present at the residence.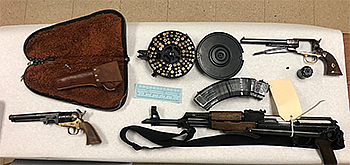 Rowan was arrested and booked at Indio jail on weapons charges.  This investigation is on-going, and anyone with further information is encouraged to contact Deputy Sandoval from the Thermal Sheriff's Station at (760) 863-8990.
The La Quinta Police Department encourages the public to report suspicious activity in their neighborhoods.  Building partnerships with community members has proven to be an effective way of preventing and suppressing crime in our neighborhoods.