Firefighters responded to a house fire that started fire early this afternoon at a home on Beadling Road in Bermuda Dunes. The homeowners were not in the property at the time of the fire, but their two dogs were. However, some neighbors managed to rescue the dogs on time.
Cal Fire Battalion Chief John Cortez said at least 50% of the property was damaged but no injuries were reported.
"The fire started exterior and got into the home into the interior of the attic," he said.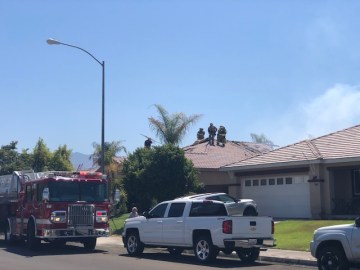 Rumors of damage to the property next door ran among neighbors but Battalion Chief Cortez said firefighter were able to prevent the fire to spread to other homes. Only a fence between the home and their next door neighbor was damaged.
Carl Farmers lives a few houses away from where the fire started and said he expected the worst.
"Of course, we live 2 houses away, so we were really, our first thought was our animals that were inside, our house obviously but, not that it's nice that it's somebody else's, but I'm glad everybody is safe," he said.
Cal Fire said the cause of the fire is unknown, and the case is still under investigation.