Each brushstroke on a mural showcased at the Desert AIDS Project in Palm Springs carries a special meaning for queer youth in the Coachella Valley. The Aztec mythology behind each carefully chosen figure is a step towards cultural and sexual self acceptance.
Ryan Llamas is a community health educator at Desert AIDS Project and worked closely with the 30 teens ranging between 14 and 21 years old. The participants painted the mural during a summer camp organized by Desert AIDS Project and Safe Schools Desert Cities.
"The participants, which were mostly Latino teens that they can get some touch with their heritage as well as a way of using their past to express their present," Llamas said.
The mural connects Latino gender non-conforming teens with their indigenous heritage, which dates back to pre-colonial times.
"It is important that we as Latinos, Chicanos, Mexicanos that we know our past," he said.
During that summer camps, LGBTQ teens across the Coachella Valley participated in a series of workshops including one about art therapy.
"I gave them a couple of Mexican codices, which are pre-Hispanic almanacs," Llamas said.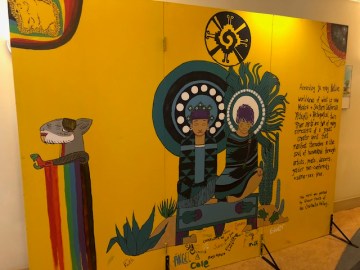 The campers added some of their own creations. The mural has a sun rising from the east and a bear symbolizing the Ursa constellation in the northern sky.
"They took imagery out of there and created their own special rainbow bunny," he said when describing a rabbit figure holding the LGBTQ flag.   
As a central piece of the mural, Llamas and other program leaders decided to include the twin Aztec gods Xochipilli and Xochiquetzal. The two are believed to be Gods that manifest themselves in those who are artists and gender non-conforming. The presence of  Xochipilli and Xochiquetzal served as a friendly reminder that even Aztec gods explored their sexuality.
"For transgender or gender non conforming or queer kids that they can see that in their own culture, the way they express themselves is not only okay, but it's celebrated," Llamas said.   
The mural will be on display at Desert AIDS Project in Palm Springs until November.