Hurricane Florence is rapidly intensifying and could strike a direct and dangerous blow anywhere from the Carolinas to the Mid-Atlantic region later this week.
"This will likely be the storm of a lifetime for portions of the Carolina coast, and that's saying a lot given the impacts we've seen from hurricanes Diana, Hugo, Fran, Bonnie, Floyd, and Matthew," the National Weather Service reported. "I can't emphasize enough the potential for unbelievable damage from wind, storm surge, and inland flooding with this storm."
Here's what we know:
Florence is now a Category 3 hurricane with sustained winds of 120 mph. On Wednesday, its peaks decreased slightly but the size of the wind field has increased.
As of 5 p.m. ET Wednesday, the National Hurricane Center reports, Florence is around 385 miles southeast of Wilmington, North Carolina and 420 miles east southeast of Myrtle Beach, South Carolina. It is traveling 315 degrees at 16 mph.
Hurricane Warnings have been issued from South Santee River, South Carolina, to Duck, North Carolina, and the Albemarle and Pamlico Sounds.
Florence is expected to produce total rainfall accumulations of 15 to 25 inches, with isolated maximum amounts of 35 inches over portions of the Carolinas and mid-Atlantic states from later this week into next week.
Forecasters said Florence is expected to gain strength through Wednesday, with some weakening expected Thursday.
Forecasters said the center of Florence will move over the southwestern Atlantic Ocean between Bermuda and the Bahamas Tuesday and Wednesday, and will approach the Carolinas on Thursday.
Governors of North and South Carolina, Maryland, Georgia and Virginia declared states of emergency far ahead of the approaching storm.
Florida-based Carnival Cruise Line re-routed its cruise ships.
Evacuation plans have been put into place for South Carolina, whose governor declared the entire coastline needed to evacuate starting at noon Tuesday. North Carolina issued a mandatory evacuation for Dare County residents that started Monday at 12 p.m. Virginia Gov. Ralph Northam issued a mandatory evacuation for the 245,000 people living along Virginia's coast.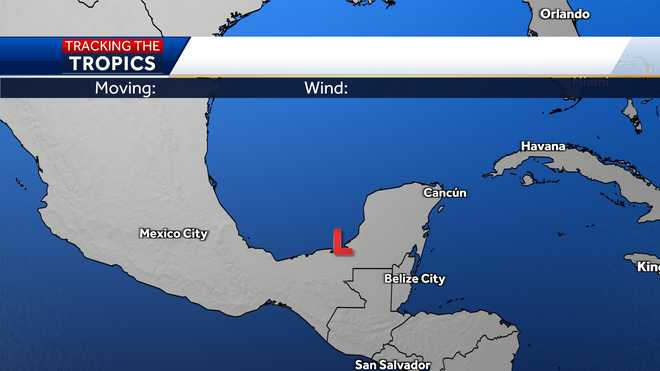 It's too early to know the exact path of Florence, but forecasters said it could blow ashore by Thursday in the Carolinas and southern Virginia, a stretch of the U.S. East Coast that experts have identified as the most vulnerable to rising sea levels due to climate change.
The storm's potential path also includes half a dozen nuclear power plants, pits holding coal-ash and other industrial waste, and numerous hog farms that store animal waste in massive open-air lagoons.
National Hurricane Center Director Ken Graham warned that Florence was forecast to linger over the Carolinas once it reaches shore. People living well inland should prepare to lose power and endure flooding and other hazards, he warned.
"It's not just the coast," Graham said. "When you stall a system like this and it moves real slow, some of that rainfall can extend well away from the center."
A warm ocean is the fuel that powers hurricanes, and Florence will be moving over waters where temperatures are peaking near 85 degrees, hurricane specialist Eric Blake wrote. And with little wind shear to pull the storm apart, Florence's hurricane wind field was expected to expand over the coming days, increasing its storm surge and inland wind threats.
Navy ships off Virginia's coast were preparing to sail out of the path, a North Carolina university has already canceled classes and people have begun stocking up on plywood, bottled water and other supplies.
Red flags have already been flying on beaches, warning swimmers to stay out of the water as seas began kicking up. People rushed to get emergency kits ready, map out escape routes, fill sandbags and secure their homes.