Felipe Ortiz pours paint from different buckets into a tray. With a wood stick, he mixes the paint until it becomes the perfect color to represent the mountain ranges that surround the Coachella Valley. Little by little, the mural on one of the side walls of the Palm Desert Aquatic Center is starting to take shape.
Ortiz is from Colombia and moved to the U.S. when he was 15-years-old. He was trained artistically in the U.S., but it was in his hometown Cali where he found his passion for muralism.
"Because I noticed it was affecting the people around me and people started to enjoy it so I wanted to continue that," Ortiz said.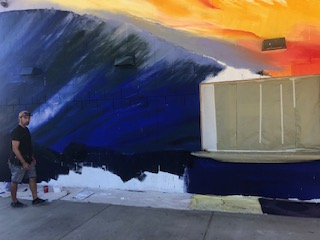 Ortiz is one of the founders of Fresco Exchange, which is a program that aims to connect American and Latin American artists. Along with three other muralists, Ortiz is touring around different cities in the U.S. the group made it a point to stop by Palm Desert.
Charlotte Maher is one of the other muralists in town getting ready to showcase her vision at the aquatic center.
"We are drawn to the nature and what we can help represent and also getting to know the community and share an artistic process with the community," Maher said.
Ivan Salazar is a street artist working on a third mural, which will be inside the aquatic center. He said he is proud to represent his country in this art tour.
"Our intention is to not only enrich the biodiversity and culture that exists here in the valley but also, enrich ourselves, so we can transmit that knowledge and energy we gain here to Colombia," Salazar said.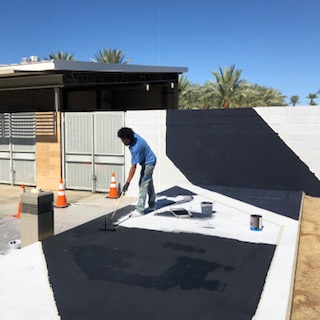 All three artists are incorporating elements that distinguish the Coachella Valley. For example, Salazar will include desert reptiles while Ortiz will represent mountains and date palms.
Deborah Glickman runs the city of Palm Desert Public Art program. She said the city is sponsoring these three murals at the Palm Desert Aquatics Center.
"The frescoes will be here as long as we can keep them, so as long as they're in good shape, we'll keep them up," Glickman said.
The artists expect to complete the murals by October 23, 2018. In the meantime, the city welcomes visitors who want to stop by and see the evolution of the pieces.